Board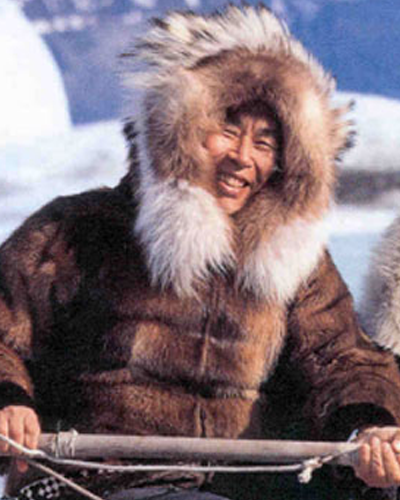 Artist Moses Wassilie
Professional Objective: To create art projects for private and public organizations and individuals; to teach and promote creative thinking in all venues and share talents with other people who desire to create art and pass on this legacy to descendants who may be interested in this process.
Artwork Experience: Creating art since 1958 with original pieces in many public and private organizations; creative design for publications and web sites, creative consulting and teaching from elementary to college level. 
Public Art:  2009 – St. Mary's School Yupik Building & Elementary School; 2006 - White Mountain school; 2001 through 2006 - University of Washington Bothell library; 2004-05, Mt. Spurr Elementary; 2000-United Utilities, Anchorage; 1989-Huslia and Grayling High schools; 1988- Kanakanak Hospital, Dillingham; 1987-Quinhagak School and Clark Junior High School, Anchorage; 1986-St. Mary's Elementary school; 1984 to 1985-Andreafski High School; 1983-Golovin, Koyuk and White Mountain Schools; 1982-Eek, Nulato, Ekwok and Manakotak Schools; 1981-Kilbuk Elementary, Bethel and Nunapitchuk High School; 1980-Public Health Service Hospital, Bethel; 1971 to present-Calista Corporation, Anchorage; 1965.
Workshops/Residencies: May 2017 – Mask making at ANCCS (Anch.); April 2017 – AIS at Alpenglow Elementary (E.R.); Nov 2016 – Ivory jewelry at DLG campus UAF; Oct 2016 – Mask making at St. Michael; February 2009 – Pelican artist in the schools; April 2008 – Judge for Alaska Native Oratory Society competition at UAA Anchorage;  January 2008 – White Mountain School artist in the schools; Spring 2007 – Elim Aniguiin School artist in the schools; Fall 2006 – St. Paul and St. George artist in the schools; Spring 2006 – University of Alaska, Kuskokwim campus; 2005 - St. Mary's and Mt. Spurr Elementary artist in the schools; 2002 to 2007, Anchorage School District - Alaska Native & American Indian Heritage Month in the schools; 1999 to 2006 Holland America cruise ship artist in residence program with Alaska Native Heritage Center; 1998 to 1999-UAA Native Student Services, CITC summer youth program and ANHC demonstrating arts program; 1988-"Very Special Arts Festival", Bethel and Naknek School; 1983-Bethel Regional High School and Northwest Regional College, Nome;  1980-Nunaka Valley Community School, Anchorage and Bristol Bay Regional Resource Center, Dillingham; 1979 - Anchorage Museum; Kuskokwim Community College, Bethel, and Inupiat University of the Arctic, Barrow.
Design:  May 2008 – American Indian Science and Engineering Society annual conference logo; 2007 – Zender Environmental survey graphics; 2005 - Tundra Cup logo; 2004- Nushagak Consultants logo; 2003-2004- Tlingit & Haida's "Solid Waste Alaska Network logo & web site design; 2002- South Central Foundation "It's in our hands" artwork; 2001-Logo for Village Wildlife Conservation Coop,  2000-Logos for Alaska Native Health Board EPA Tribal Leader's Summit, Tribal Health Consortium's Denali Kid Care program and Sound Waves Communications, Anchorage; 1999-"New Traditions" poster for Alaska Native Health Board and crown and neckpiece for CIRI Foundation/CITC; 1983-Trophies for CITC Native Youth Olympics, Anchorage and T-shirt design for Nulato High School;  1982-Logo for Arctic Industrial Services, Anchorage;  1981-Logo for K & J Enterprises and Poster with Certificate for UNAFEST 1981, Anchorage;  1980-Logo for my EskiMoeArt business;  1974-Logo for "Alaska Native Magazine" at KUAC-TV, Fairbanks.
MEDIAART EXPERIENCE
Nanuq Film: 2016 – Kenosha, Wisconsin; played Nanuq Baker. Reality TV: 2015 – For the History Channel's Susqatch segment; filmed at Eagle River. For TLC's Sister Wives – Alaska segment; filmed at Girdwood. Peru Feature Film: 2015- For a Peruvian feature film; filmed at Talkeetna, played a Yupik Shaman. Korea TV: 2006 – Korean Airlines commercial; filmed at Big Game Alaska & Girdwood glaciers. Mexico National TV; 2004 - Corona commercial for Mexican TV; filmed at Hatcher Pass, Alaska. Holland National TV; - 2002. Heineken beer commercial for national Dutch TV; filmed in Barrow, Alaska. Austin Texas Television; - 2001. Promotional advertisement for the Bob Bullock Texas State Museum; filmed at Georgetown, Colorado. Satellite Films; Hollywood, Calif. - 1997. Pontiac commercial for national TV; filmed at Queenstown, New Zealand, part of the "Wider is Better" series aired during the Super Bowl. Cheil Communications; 1995. Seoul, Korea. Still photo; for Samsung Heavy Industries poster advertisement. Peterson Pearson Milla Advertising;  Minneapolis, Minn.  - 1995. Wilson Griak/ Edina Realty commercial for Minneapolis, Minn. TV. Hal Riney & Partners; Chicago, Ill. - 1994. Aaron Jones Studios; Santa Fe, New Mexico. John Deere commercial for national TV.
Warner Brothers; Hollywood, Calif. 1993.  Feature film "On Deadly Ground"; an action film with Steven Segal and Michael Caine. Played the character of Joseph Itok, an Eskimo businessman. Performing Arts Center, Anchorage, AK; 07/1991 to 10/1991; Stage acting with the play-"The Raven's Apprentice" by Jack Abraham. KUAC-TV; University of Alaska;  Fairbanks, AK. 1971 to 1978. Producer/host;  "Alaska Native Magazine".  Producer/director; "Law of Our Fathers"- 16mm film for TV.
CREDENTIALS
Education/Experience: Adjunct professor of art at UAF – Anchorage, Bethel and Bristol Bay campuses; owner of 'UPikArt', a sole-proprietary art business licensed in 1999 specializing in paintings, carvings and jewelry, creative design, promotional and digital photography. AAS in Human Services UAA at Anchorage-1986, and worked as an alcohol and drug counselor at Clitheroe Center and the Alaska Native Alcohol Recovery Center from 1986 through 2001; started as Level lA and continued until I became certified as Clinical Supervisor; taught Cultural Considerations classes with the RADACT Program to help students, teachers and counselors working with Alaska Native Clients to understand the Alaska Native culture and ways to work with those Clients, Workers and Patients from 1990 through 2000. Attended the Institute of American Indian Arts in Santa Fe, New Mexico in 1968; also attended UAF-Fairbanks from 1969 - 1970. Graduated from Mt. Edgecumbe High School in Sitka in 1966. 
Personal: Born in Nunapitchuk, Alaska in September, 1946; raised at the Moravian Children's Home at Kwethluk, Alaska from 1952-1964. Other occupations include: Yup'ik actor and subsistence hunter and fisherman from 1967 to present; drummer and singer with the Kicaput singers & dancers since 1997; painter in pastels, acrylics and oils; carver in ivory, wood and beaded jewelry, masks and Native drums; and plays piano & organ as needed for Church, dances and festivals. Screen Actor's Guild member since 1993, currently inactive. 
References: May be available if needed; although some Teachers and Mentors have passed on…RIP and Thank You!
The artist was born in a sod house at Nunapitchuk in Southwest Alaska in 1946; mother was Lucy Jacob, traditional Yupik Dancer and subsistence trained woman and father was Wassilie B. Evan, subsistence Hunter & Fisherman and leader from Napaskiak.
As a young boy, Moses spent his early youth living a traditional subsistence way of life in the Tundra country off the Johnson River system. He spent his elementary grade school years at the Moravian Children's Home in Kwethluk, where he learned about Christianity and Western subsistence and way of life with schooling and was inspired by the late Muriel Hannah, a pastel portrait painter; Moses graduated from high school at Mt. Edgecumbe boarding school at Sitka in 1966, where he started painting portraits using charcoal on Sitka pulp mill paper.
Other secondary schools include the Institute of American Indian Arts in Santa Fe, New Mexico to study painting and sculpture, the University of Alaska, Fairbanks to study carving and drawing and the University of Alaska Anchorage for a human services degree. The artist paints with pastel, acrylic and oil; also produces King Island style Inupiat drums, contemporary carvings and masks, and walrus ivory jewelry. Moses also was a documentary filmmaker and photographer for KYUK in Bethel and KUAC in Fairbanks as well as film actor and talent, and taught cultural sensitivity and education classes for public and private organizations in Alaska, including schools and museums.
He performs with the Yupik/Cupik dance group, the Kicaput Singers and Dancers of Anchorage. Also a contemporary musician since 1958, he has been playing guitar and keyboard with many bands, including Sound Project, Tundra Country, Pilot Bread and the Matt Hammer Band. Since 2000, Moses has been creating artwork and playing piano and guitar and singing as part of Alaska Native Heritage Center's artist in residence program on the Holland America Cruise ships during the Alaska summer sailing seasons in Southeast Alaska.
Digital artwork and design was started in 2000, with logos and web-based artwork under his UpikArt business. In 60 years, his art has graced many homes, businesses and public institutions in Alaska, the Pacific Northwest and the World!